HAITIAN BLACK CASTOR OIL
Our Haitian black castor oil, called "Lwil Maskriti" in haitian creole will help you grow and thicken your hair, your eyelashes, your eyebrows, your nails & men's beard. this oil is what you need if you are seeking hair growth. Feel free to check out our verified buyers to find out what our customers think about it. 
100% secure payments
autorenew
Shipping:
More than - € to take advantage of the free delivery!
WHERE DOES OUR BLACK CASTOR OIL COME FROM?

In a small island nestled in the heart of the Caribbean, Haiti has many treasures buried in the lush nature. And when it comes to haitian black castor oil, It all started in Eva's grandparents backyard into the small village of Piton. In the middle of a green landscape, the whole family is in the kitchen preparing the most captivating recipe ever. The main ingredient: castor seeds. The seeds come from a tree commonly called, castor bean. And a prodigious vegetable oil is extracted from the beans, black castor oil from Haiti, called "lwil maskriti" in Haitian Creole, this natural oil is obtained out of a traditional manufacturing ancestral process.
The castor seeds are roasted, pressed and then roasted again until getting a peanut-smelling-dark-shaded oil. This is the traditional way of making Haitian Black Castor Oil. The traditional manufacturing process helps keep a maximum of the omega fatty acids 3, 6, 9, the vitamin E & the rininoleic acid. For all these reasons, the Haitian Black Castor Oil is considered to be the best black castor oil in the world.
WHAT IS THE PURPOSE OF OUR HAITIAN BLACK CASTOR OIL?


Our Haitian Black castor oil, or "Lwil Maskriti" in Haitian Creole, is a multifunctional product, that will help you: 

Grow and thicken your hair, eyebrows, eyelashes, nails and beard
Thicken your hair and give it strength
Seal in the moisture into your hair until your next wash day session
And overcome dry and brittle hair
HOW SHOULD I USE THE HAITIAN BLACK CASTOR OIL?

OBJECTIVE GROW AND THICKEN THE HAIR
(Work on a clean head of hair)
Apply 5 to 9 drops of oil to the entire scalp and massage until completely absorbed. It is recommended to apply the oil onto the scalp twice a week. The hair will grow faster and get thicker. The oil can also be applied on eyebrows, eyelashes, beard and nails.
OBJECTIVE SEALING IN THE MOISTURE INTO THE HAIR SHAFT
(Work in sections on a clean head of hair)
Apply a little bit less than a teaspoon of oil to your section after moisturizing it with a moisturizing cream or water. The application of the oil will seal in the moisture into the hair shaft.
OBJECTIVE HOT OIL TREATMENT OR DEEP CONDITIONNING TREATMENT
As a hot oil treatment, apply about 3 to 5 tablespoons of castor oil onto the hair, leave on for approximately 45 minutes under the EvasHair heating cap, then proceed to shampoo and then to the deep conditioning treatment. As a deep conditioning treatment, add 5 tablespoons of castor oil in your conditioner or mask and then proceed as usual.
OBJECTIVE GETTING A NICE MASSAGE

Heat the desired amount of castor oil in a water bath, then spread the oil onto the body areas you wish to massage and then massage until completely absorbed.
OBJECTIVE GETTING A NICE BEARD WITH HAITIAN BLACK CASTOR OIL

Apply 2 drops of castor oil on a daily basis to your beard, massage, and then comb. Your beard will grow faster and will soon become much thicker.
INGREDIENTS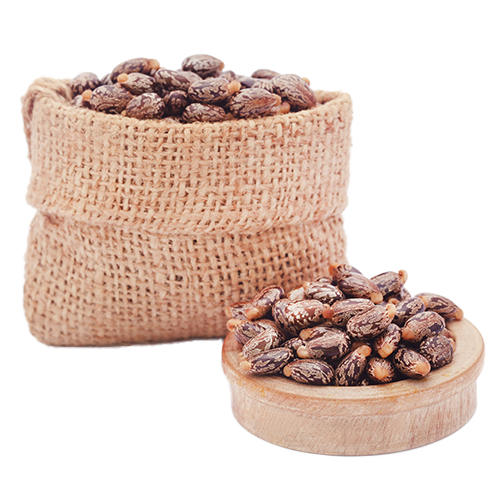 100% Pure ricinus communis

100% NATURAL INGREDIENTS

(Product made in Haiti & packaged in France)